Jetpacking into space has never been easier, especially at mBitcasino. And if you're a fan of Bitty Quiz, you should know we're launching a preseason with a limited-edition badge, extra Free Spins, and the chance to call yourself a Bitty Quiz Jetpacker!
Keep reading to find out how you can win big this preseason.
Become a Bitty Quiz Jetpacker!
It's fun to rise up the ranks; all you have to do is win 2 Bitty Quizzes. We're always going to keep you updated regarding your actual wins: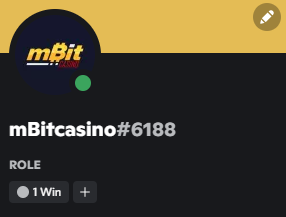 Once you win 2 Bitty Quizzes, we'll award the limited-edition badge next to your name and into your profile section. Here's what it would look like: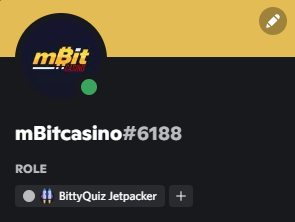 The badge stays forever on your player's profile. However, after the preseason is over, the badge won't appear when writing in the chat. But don't worry, as you'll get more chances to earn cool ones as seasons come and go.
At the end of the preseason we'll have another surprise for you, so stay tuned to see what it's about.
Win 10 Extra Free Spins!
Once you're a proud Bitty Quiz Jetpacker, not only will your wits be disclosed for all to see, but you'll also have a special perk for every other win you get.
That's right!
For every Bitty Quiz won, you'll get 10 extra Free Spins on top of the set of spins received in the successful trivia game.
If you want to freshen your memory regarding the Bitty Quiz and how it works, you can read the 310 Free Spins Prize Pool On Trivia at mBitcasino!
Stay tuned!
Playing Bitty Quiz on Discord pays off in a big way at mBitcasino. Make sure you sign up if you aren't already and get that limited-edition badge.
The preseason ends on June 30, so please take advantage of this offer until then.
Are you up for the challenge?