Being a welcoming host is something of an ability of people. We all have a friend for which hospitality is the keyword and everytime there is a gathering in your group. For us, that welcoming host is Mr. Bitty – the best host in the Galaxy!
He loves to see new people in his galaxy so he told us: What can we do in order to get more people that visit our galaxy remain here and try to get to every planet we have?
mBitcasino's team got hard at work and devised a package for every person that joins Mr. Bitty's Galaxy. If you've never visited our crypto casino, now's just the time to do it!
Translated into casino language, we revamped our welcome package, because we wanted you to benefit off your first interactions with our casino even more than before. Now, we offer more free spins and a percentage reload according to your deposit. We don't offer it only once – you'll have the chance for a better and better bonus every time you deposit for your first 3 deposits.
Now, what are those Welcome Package at mBitcasino bonuses we've been talking about in this blog? Well, let's see!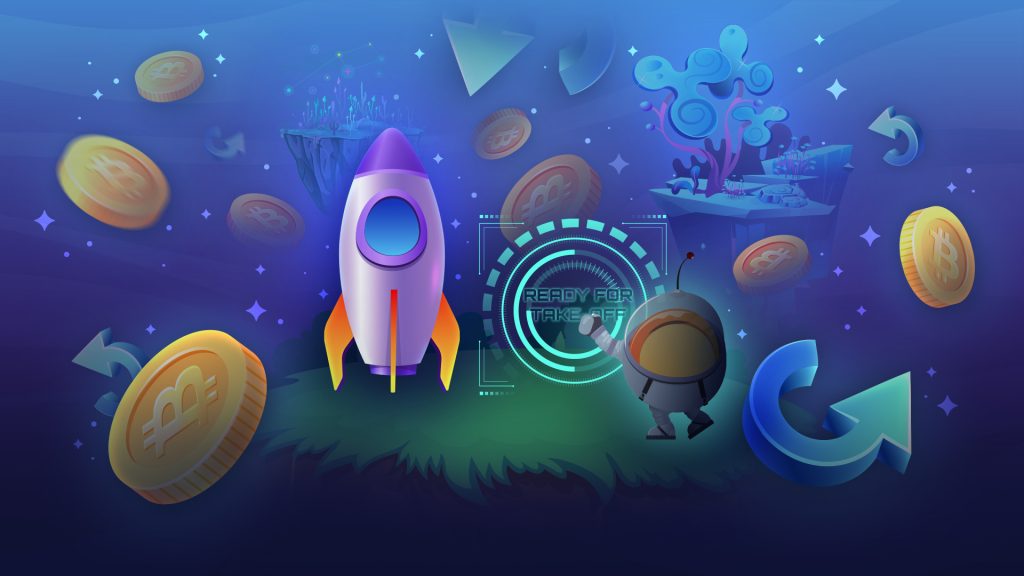 First deposit – discover the power of Mr.Bitty's shuttle
You're on Earth, but you've been feeling like you haven't discovered anything that's out there for you. You want to take off, but you need a friend to guide you in the right direction. Here comes Mr. Bitty – with the first gift from his welcome package. 
The first time you deposit at mBitcasino, as a kickstarter for your interstellar gaming desire, we'll offer you 75% Reload + 75 Free Spins. The minimum deposit required is 2 mBTC and the max reload we can offer you from the get-go is 1 BTC – which can offer you lots of playtime.
Second deposit – get in your shuttle and fly towards the moon
After the first deposit is done and you've discovered Mr. Bitty's shuttle and what it does, you want to power up towards the sky. The only thing remaining for you to do is getting in your shuttle and flying straight up towards The Moon!
In the second deposit phase of the Welcome Package you discover the Shuttle and start flying towards the Galaxy. You'll get a 100% reload + 100 Free Spins, with a minimum deposit of 2 mBTC and a maximum reload you can get of 1.5 BTC. Are you ready for the Galaxy?
Third deposit – you're closer to the moon, what now?
With the first two gifts from Mr. Bitty's Welcome Package, you managed to fly off Earth and land on the first planets of our Loyalty Program. You're closer and closer to the Moon, but what's next?
The third deposit will really fuel your journey in the Great Unknown. Making a 3rd deposit with the Welcome Package activated will grant you a whooping 125% reload bonus and 125 Free Spins, to get you the closest you've ever been to the moon. 
You've enjoyed our full Welcome Package and we're glad you took action and enjoyed our gifts – but what's next for you as a mBitcasino player?
What's next?
mBitcasino has lots of promotions constantly available for you. Most crypto game providers host awesome tournaments and races in our crypto online casino, so you'll never get bored. We also have awesome programs developed by our team, but today we'll focus just on two of those – the Loyalty Program and the Bitty Quiz.
Loyalty Program
The Loyalty Program is developed for our most loyal players and it offers them a reason to keep exploring the mBitcasino world. During this time, you'll get to explore the Winter Nebula and win impressive prizes: 
Daily Cashbacks
Constant Events
Free Spins on Level Up
Personalized Free Spins every Monday
Personalized Reloads every Friday
Planet Bonuses
Bitty Coins
Bitty Quiz
Status Boost
If you want to learn more about the Loyalty Program, make sure you read everything about the latest season – the Winter Nebula.
Bitty Quiz
Mr. Bitty is also a big trivia buff (along astronaut, history teacher, gambling aficionado, great entertainer) – so he asked us if we can host a tournament for his witty players. That's when mBitasino's team came up with the Bitty Quiz concept.
It is a trivia contest which takes place every Monday and Thursday on mBitcasino's Discord Server. If you manage to be one of the first 10 people on the leaderboard, you'll get Free Spins – the first player receives 125 Free Spins, so if you like that mechanic and love trivia, Bitty Quiz is for you.
Discover more about Bitty Quiz here!
Are you going to the Moon with our Welcome Package? We're rooting for you!