The rules of blackjack are flexible which is why there are so many variations and the reason for this exciting 5 deck blackjack strategy guide.
The only differences to playing 6 deck blackjack versus single deck, double deck, or 8 deck blackjack is the effect the 6 decks has on the house edge and the basic strategy chart you use to play blackjack according to the house edge or RTP.
You can also check out guides which are remarkably like this one:
In fact, no matter how many decks your blackjack table has, we suggest reading all of our blackjack strategy guides because the more you read them, the more you will understand how diverse blackjack is when you travel from table to table.
Also, make sure you check out the following blackjack guides:
Each of these guides will help you improve your '6 Deck Blackjack Strategy' while this guide specifically gives you all the information and basic strategy charts you need to play the 6-deck game at the best crypto gambling sites.
Once you finish reading this guide, you should start looking at blackjack tables online, read the rules so you understand how they can change, and either play for free or make a few bets to get a feel for different variations of the game.
The Best & Worst 6 Deck Blackjack Tables
When choosing a 6-deck blackjack table you will have plenty of choice because this is the most common number of decks used in both online casinos and land-based casinos.
One of the great aspects to playing on a 6 deck table is the casino generally uses fairly liberal rules because the house already gains additional percentage advantage for each additional deck added to the shoe.
The very best of these 6 deck blackjack tables have the following rule – S17, DAS, RSA, ES & DOA
Dealer Stands on Soft 17 (S17)
Double Down After Split (DAS)
Re-Splitting Allowed (RSA)
Early Surrender Allowed (ES)
Double Down on Any Total Allowed (DOA)
Blackjack Pays 3-2
Some casinos are ruthless with their 6-deck blackjack rules which you will find mostly in the casino hotels on Caribbean islands where they known most visitors are not blackjack players and so the rules are heavily swayed in favour of the house.
The very worst 6 deck blackjack tables have the following rule – H17, NDAS, NRSA, NS, NDOA, and blackjack pays 6-5!
Dealer Stands on 17 (S17)
No Double Down After Split (NDAS)
No Re-Splitting Allowed (RSA)
No Surrender Rules (NS)
Double Down on 9 Total Only (D9)
Blackjack Pays 6-5
Each instance here gives the house an advantage by increasing the house edge, while in the firstlist the advantage goes in favour of the player reducing the house edge. The idea is to find 6 deck blackjack tables with as many rules that work in your favour.
Here are a few extra rules you may come across. Some are quite rare but they do exist on some games so it is good to be aware of these rules.
Double Downs
Double Down on 10 or 11 (D10)
Double down on soft count (Rare)
Double down on three cards (Rare)
Double on any number of cards (Rare)
Redouble (Rare)
Surrender
Late Surrender Allowed (LS)
Surrender any number of cards
Surrender after Double
Splits
Surrender after Split
Split any time
Multiple draw after split Aces
The Worst Hand in 6 Deck Blackjack
The dreaded 16 hand is considered the worst hand in almost every varient of blackjack. It makes some blackjack player quake in their boots because it can so easily bust yet it is also easy for the house to beat this hand.
Now the reason we mention this hand is because most players that do not use basic strategy tend to stand when they see this hand when the dealer has a 7, 8, 9, 10, or A up card. This is the wrong move to make!
Here are your 6 deck Blackjack Strategy options with a 16 total:
Stand only when the dealer has a 2, 3, 4, 5, or 6 up card
Hit if the dealer's card is a 7 or 8
Surrender if the dealer has a 9, 10, or A
If surrender is not allowed hit  if the dealer has a 9, 10, or A
Split if you have 8-8 and the dealer's up card is 2 through to 10
Surrender if you 8-8 and delaer's up card is an Ace
If you have a soft 16 (A-5) treat it as a 6 which means always hit
The same actions above will apply if you have hit for 3 cards, 4 cards, or 5 cards and your total 16 for all cards!
Playing 17+ Totals on 6 Deck Blackjack Tables
Some of the most trickey hands in 6 deck blackjack are those that are close to 21. Most people are unsure how to act. The easiest thing to do if you don't know is just 'stand'.
Even on the basic strategy charts, almost every hand with a value of 17 or above will require you to 'stand' regardless of the dealer's face up card except in a couple of rare instances.
17 Total: If the dealer's up card is an Ace, then 'Surrender' or 'Stand' unless you are playing on a S17 DAS table, then you should always 'Stand'
18 Total: Always 'Stand' unless you have 9-9 then 'Split' only when the dealer's up card is 2, 3, 4, 5, 6, 8, or 9 otherwise stand
19 Total: Always 'Stand'
20 Total: Always 'Stand' even if you have 10-10
Split 9-9 when the dealer's up card
It is amazing to see players split 10-10. This is arguably the worst move but most common mistake you will see other players make. Well there are also those that play A-A hands as a 2 or 13 which is perhaps just as bad!
6 Deck Blackjack House Edge & RTP
In all of our blackjack strategy blogs we always cover how the number of decks changes the house edge. If you are going to become a mastermind blackjack player, it is always good to know exactly which rules affect the house edge of a table.
These percentages subtract (-) from RTP or add to (=) the House Edge
8-Deck Tables: (-/+) 0.57%
7-Deck Tables: (-/+) 0.56%
6-Deck Tables: (-/+) 0.55%
5-Deck Tables: (-/+) 0.53%
4-Deck Tables: (-/+) 0.5%
3-Deck Tables: (-/+) 0.45%
2-Deck Tables: (-/+) 0.34%
Why is understanding these percentages important?
Although most online casino games clearly display the house edge or RTP, some do not, and in a land-based casino, the chances are this information is not readily available.
Therefore, having your own knowledge of which rules increase or decrease the house advantage could help you decide which Blackjack table offer the best house edge if you have multiple choice available.
You do not need to know the house edge to find the best table in the casino
Simply become an expert at finding tables with the most liberal rules
Choosing 6 Deck Basic Strategy Charts
Our final tip to play perfect 6 deck blackjack strategy centres around the most important point we have to make. Every blackjack player should learn or at least have handy a '6 deck basic strategy chart'.
You need to make sure you have the correct 6 deck strategy basic strategy chart as there are 4 different charts
S17 DAS
H17 DAS
S17 NDAS
H17 NDAS
Basic strategy is a proven mathematical set of actions used to tell you whether to 'Hit', 'Stand', 'Split', 'Double Down', or 'Surrender'.
Basic strategy tells you what the perfect move to make is according to 'Your Hand Total' Vs 'The Dealer's Up Card'
If you play online, then it is easy to incorporate these charts into your game because you do not need to memorise them.
However, if you play at land-based casinos, then you may need to memorise every chart unless the casino is ok with you having some form of indicator such as a basic strategy chart printed on a card that you can hold in your hand.
Once are sure which table rules apply, you can proceed to using one of the below basic strategy cards designed for all blackjack tables with 4 decks, 5 decks, 6 decks, or 8 decks in the shoe.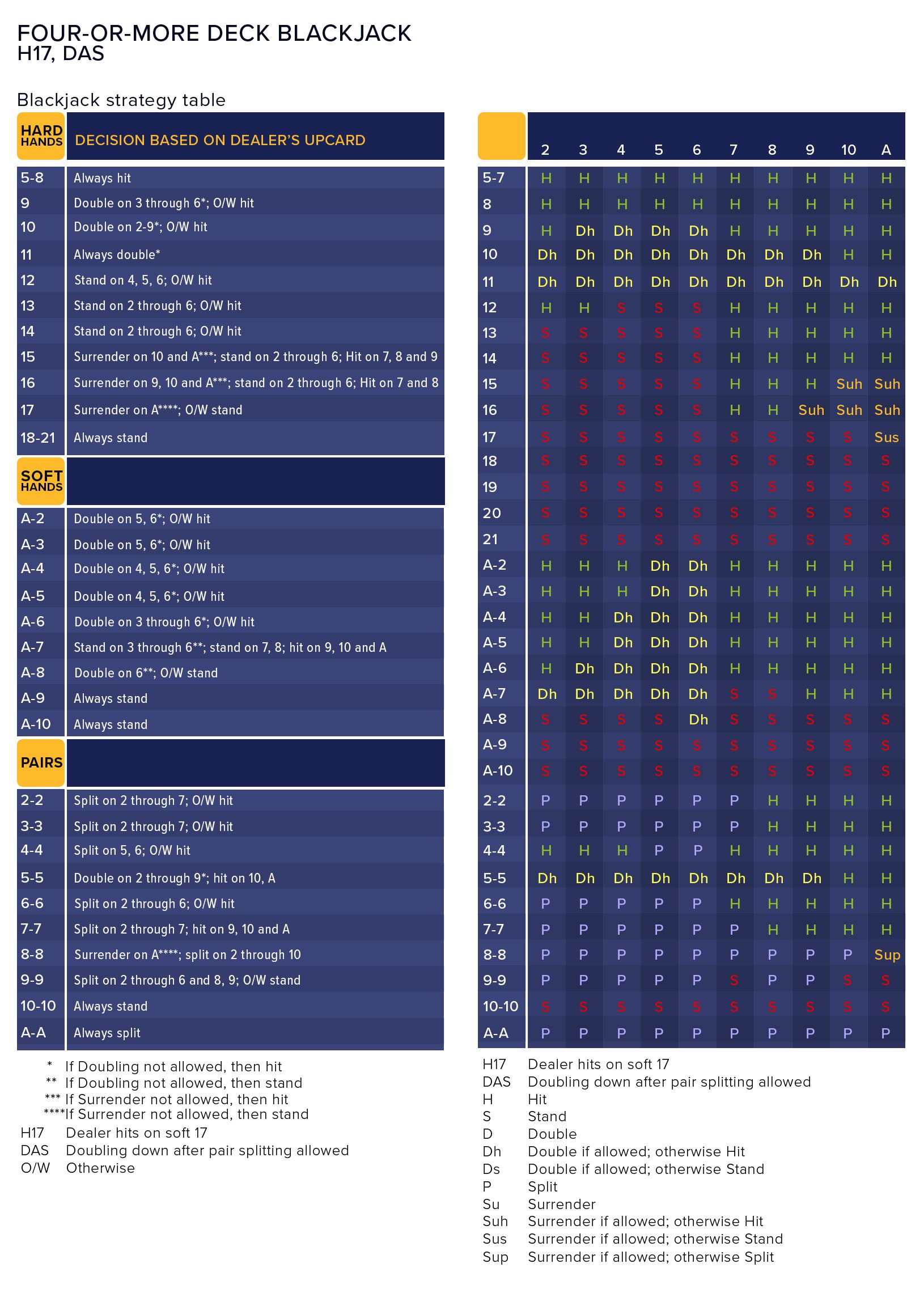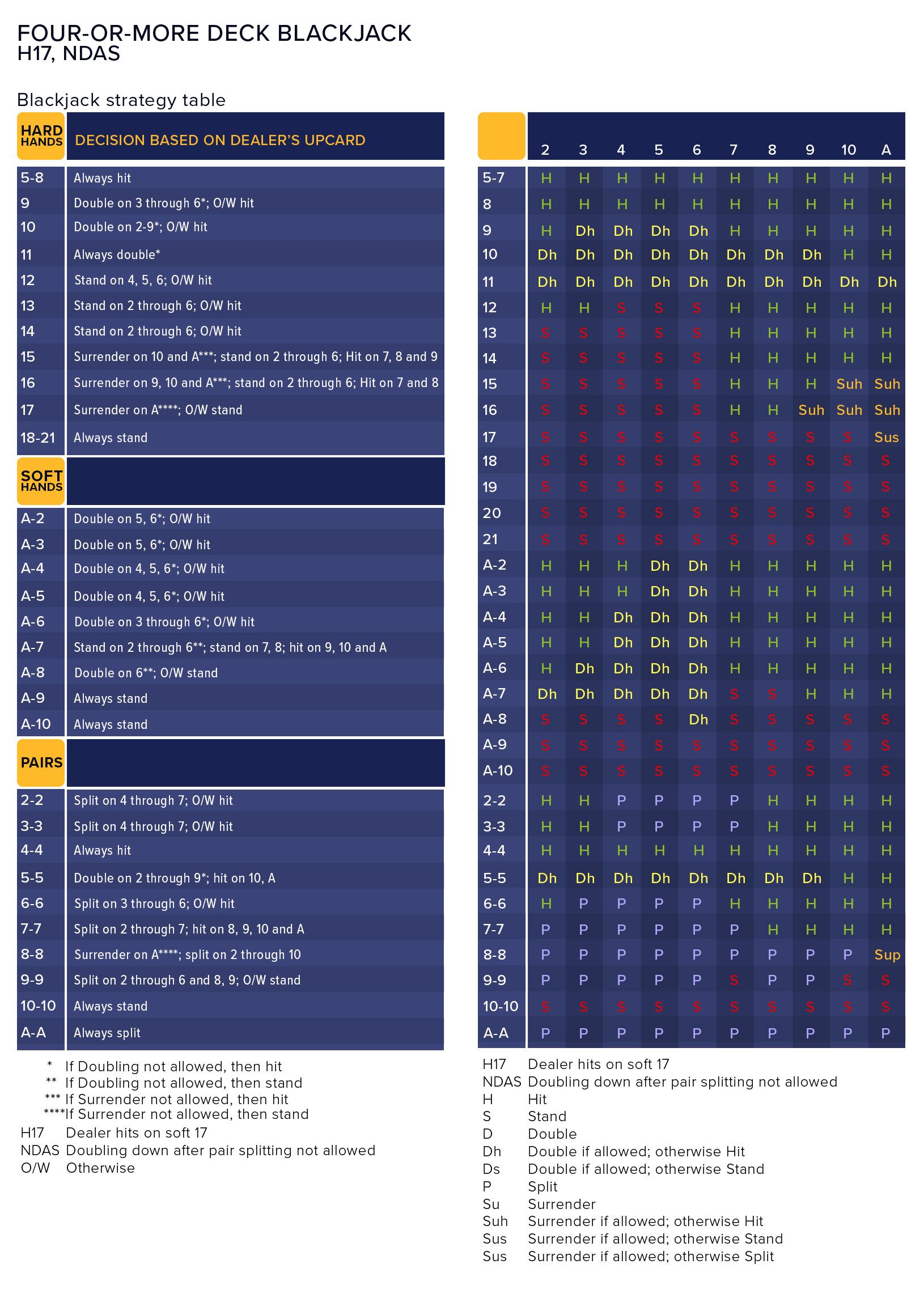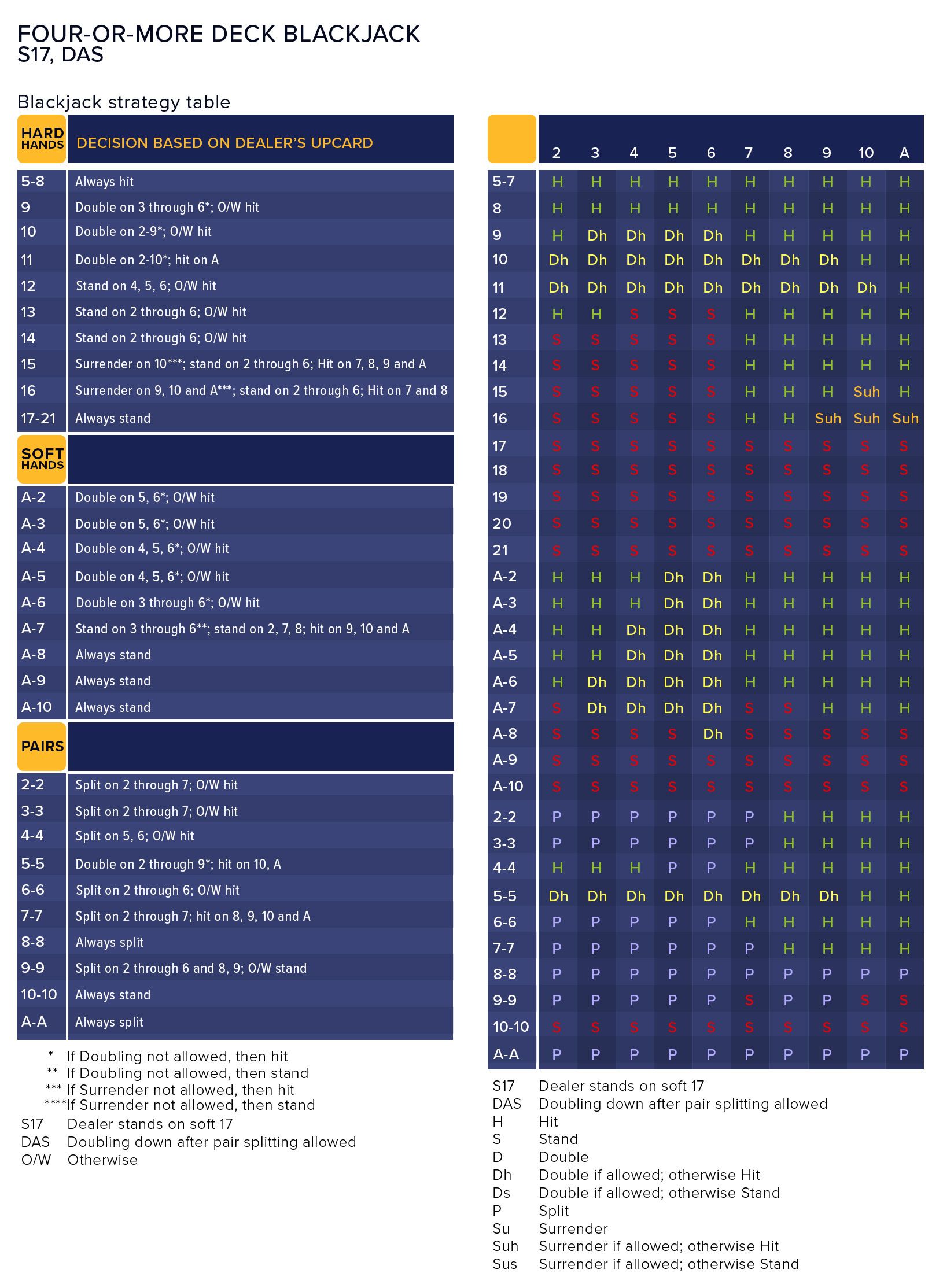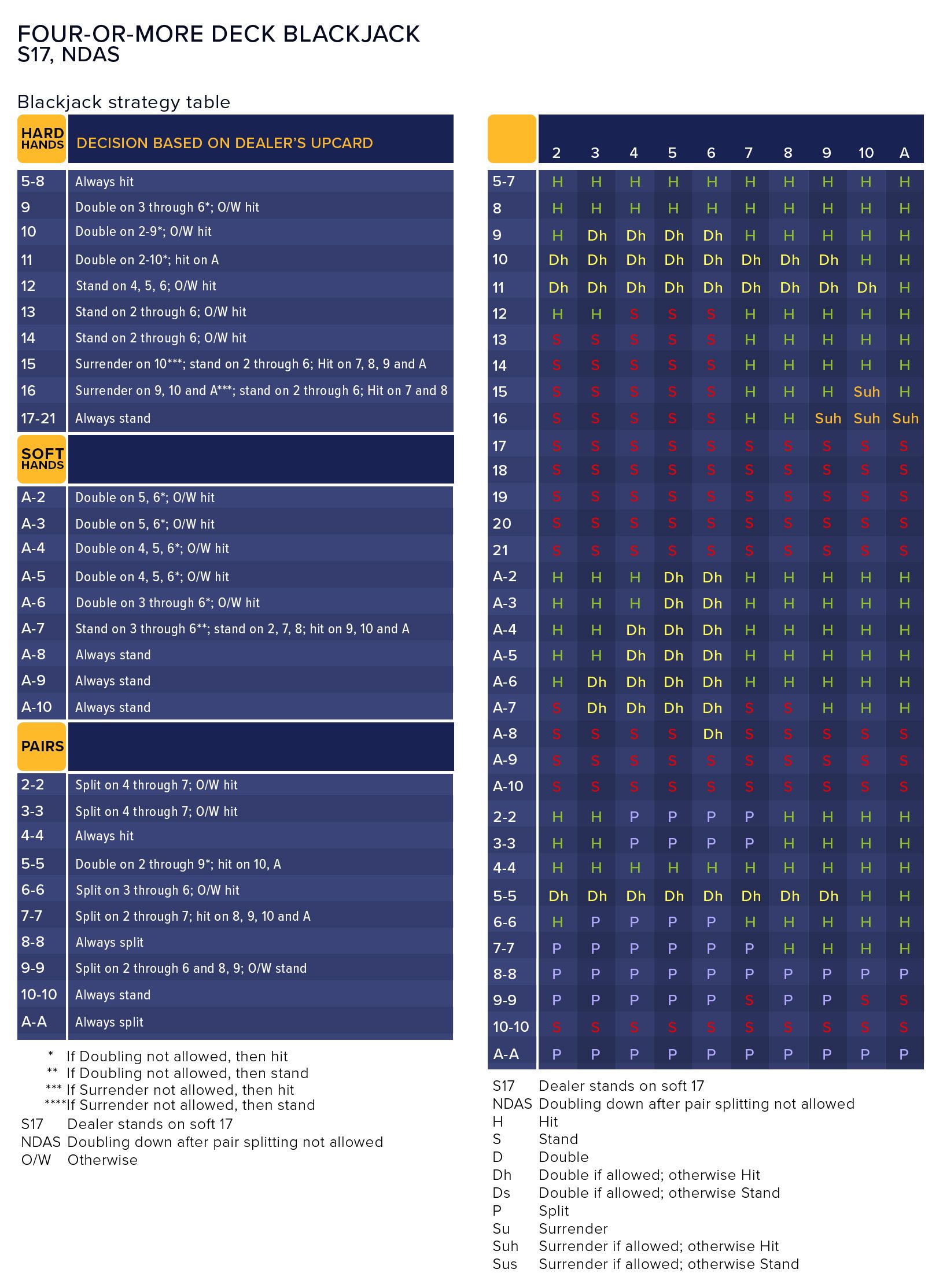 Practice Your 6 Deck Blackjack Strategy at mBitcasino
At mBitcasino there are tons of live dealer casino blackjack tables and virtual blackjack tables that use 6 decks. Check out our blackjack section here or our live casino games here.
You can play either of 2 virtual blackjack tables below for free or you can bet using BTC, BCH, LTC, ETH, USDT, or DOGE.
6 Deck Blackjack 21 by Amatic:
H17 DAS (99.6% RTP / 0.4% House Edge)
Double Down After Split (DAS)
Re-Splitting Allowed (RSA)
Double Down on 9, 10, or 11 only
Blackjack Pays 3-2
6 Deck Multihand Blackjack Pro by BGaming:
H17 NDAS (99.4% RTP / 0.6% House Edge)
Double Down on 9, 10, or 11 only
Blackjack Pays 3-2
Over in the live casino, there is a selection Evolution, Ezugi, and Pragmatic Play Live Dealer 6 Deck Blackjack tables. These tables do not have a free play version, but you can place bets using crypto!