If you want to beat the dealer on multi-hand bitcoin blackjack, then this article is for you. We've collected the best blackjack strategies that can multiply your odds on the most popular table games. Learning them can make you play 'perfect blackjack'.
So, if you want to win more than you lose, you need to follow the correct basic strategy charts for your hand. Luckily, in multi-hand blackjack, you have plenty of potentials to win and try out different strategies depending on your hand.
Here's what you need to know to win:
Number of decks
When you've picked a multi-hand blackjack table, the first thing you need to check is the number of decks in play. Once you know how many decks are in the shoe, you can correctly select the basic strategy chart:
There are three types of blackjack strategy charts:
Single Deck Blackjack aka the 1-deck blackjack.
Double Deck Blackjack aka the 2-deck blackjack.
4 to 8 Deck Blackjack
You can figure this out by checking the settings or press the more info button.
Dealer rules

To make picking the correct strategy chart even easier, you need to know which rule the dealer applies at the table you've chosen. They can take only two actions:
Dealer hits on soft 17 (H17): The dealer will hit all soft 17 hands
Dealer stands on all 17s (S17): The dealer will stand on A-5, A-2-3, A-A-4
Once you know which action the dealer will take, you can correctly choose the basic strategy chart to follow.
Double Down After Split Rules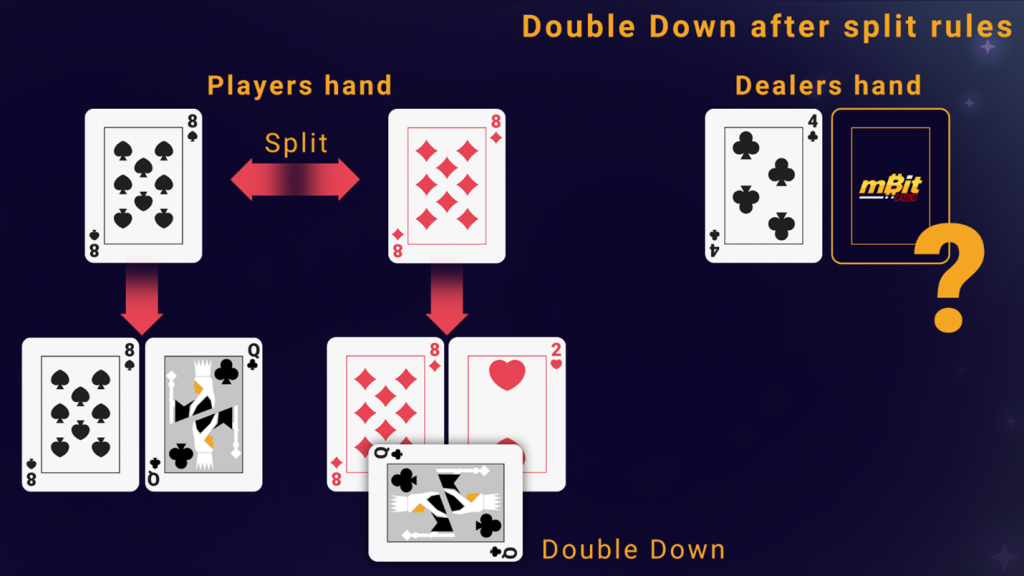 Knowing whether your table allows you to double down after a split or not can give you extra clues regarding what strategy would best suit your hand. There can only be two options:
DAS: The table rules allow you to double down after a split
NDAS: The table rules prevent you from opting to double down after a split
Chart Legend
Check out this legend, it will help you better understand the strategy charts you'll use. They also offer extra rules for those games that have additional rules on top of the regular S17, H17 DAS/NDAS rules.
H – Hit
S- Stand
D – Double
Dh – Double if allowed, otherwise Hit
Ds – Double if allowed, otherwise Stand
P – Split
Su – Surrender
Suh = Surrender if allowed; otherwise hit
Sus = Surrender if allowed; otherwise stand
Single Deck Blackjack Strategy Charts
When you play single deck blackjack, you can follow the charts below. Choose the correct rules for the table you are playing i.e., DAS, NDAS, S17, or H17 to make sure you make the correct decisions.
Read more about the Single Deck Blackjack Strategy.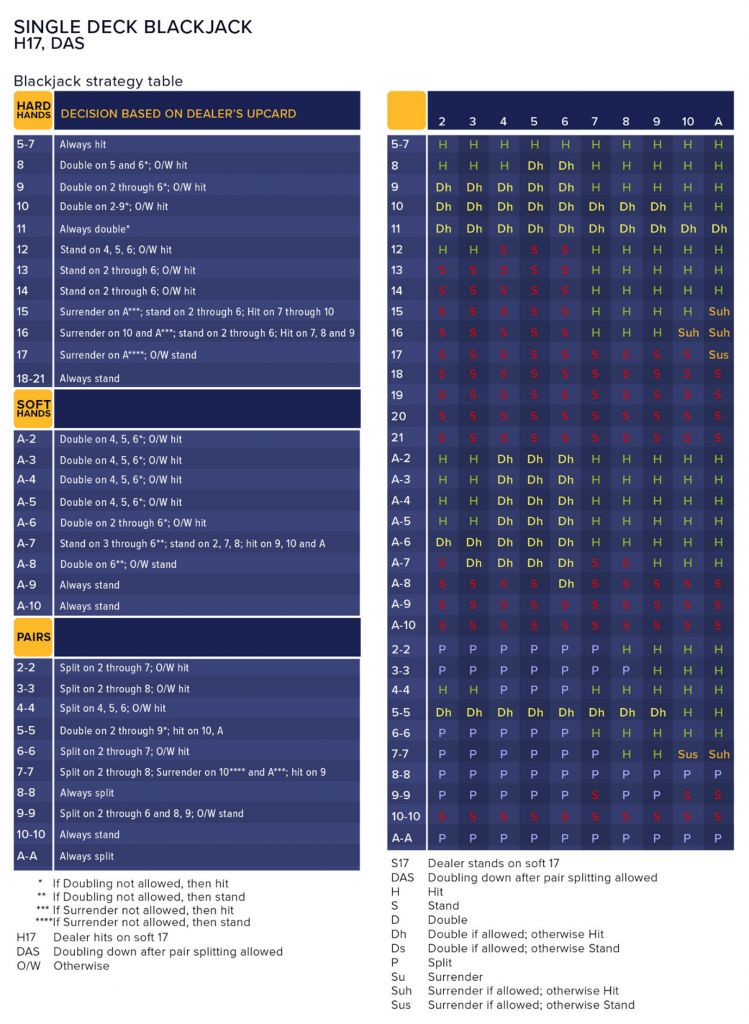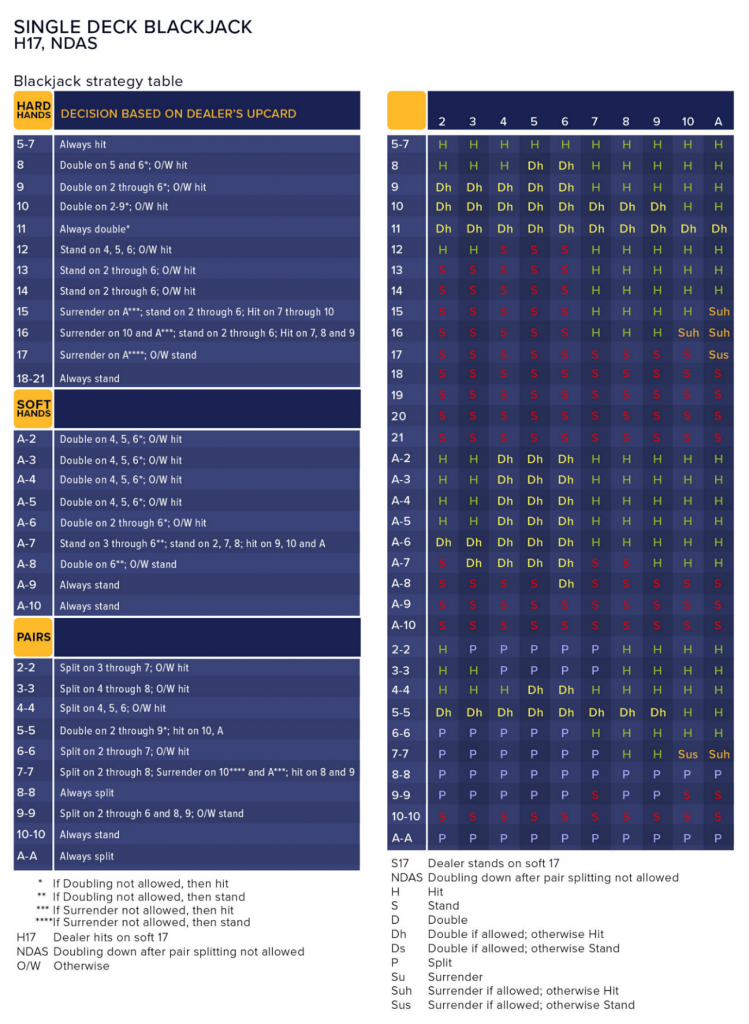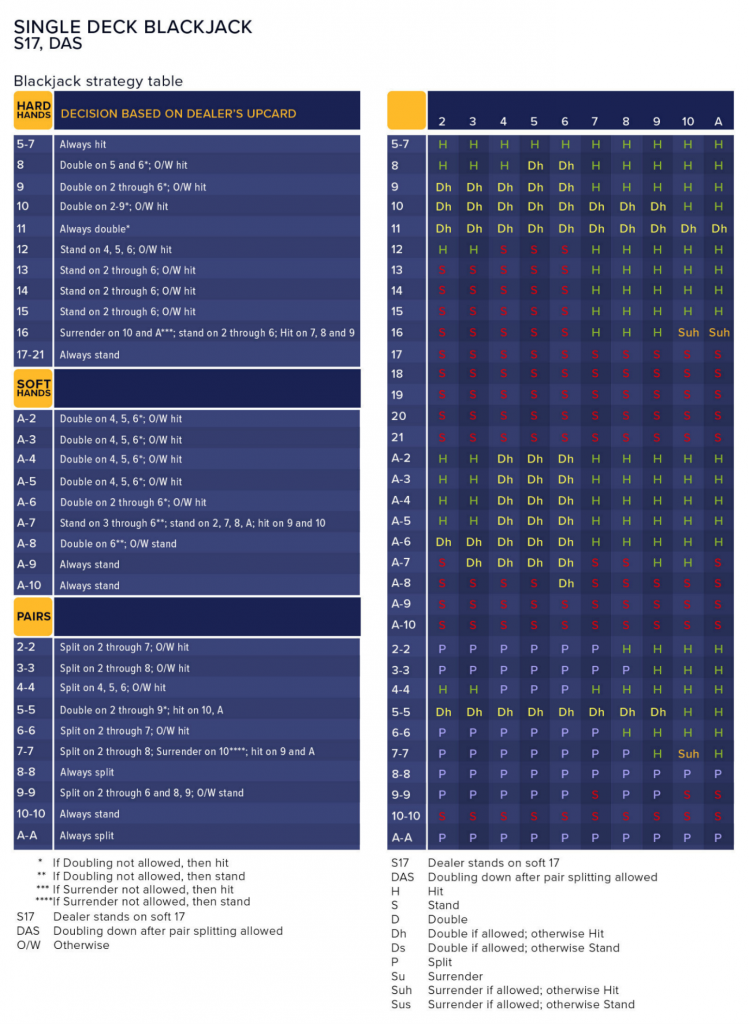 Double Deck Blackjack Strategy Charts
Check your hand total versus the dealer's up card and refer to the basic strategy table to make the best mathematical decision. Once again, make sure you choose the correct chart i.e., DAS, NDAS, S17, or H17.
Read more about the Double Deck Blackjack Strategy.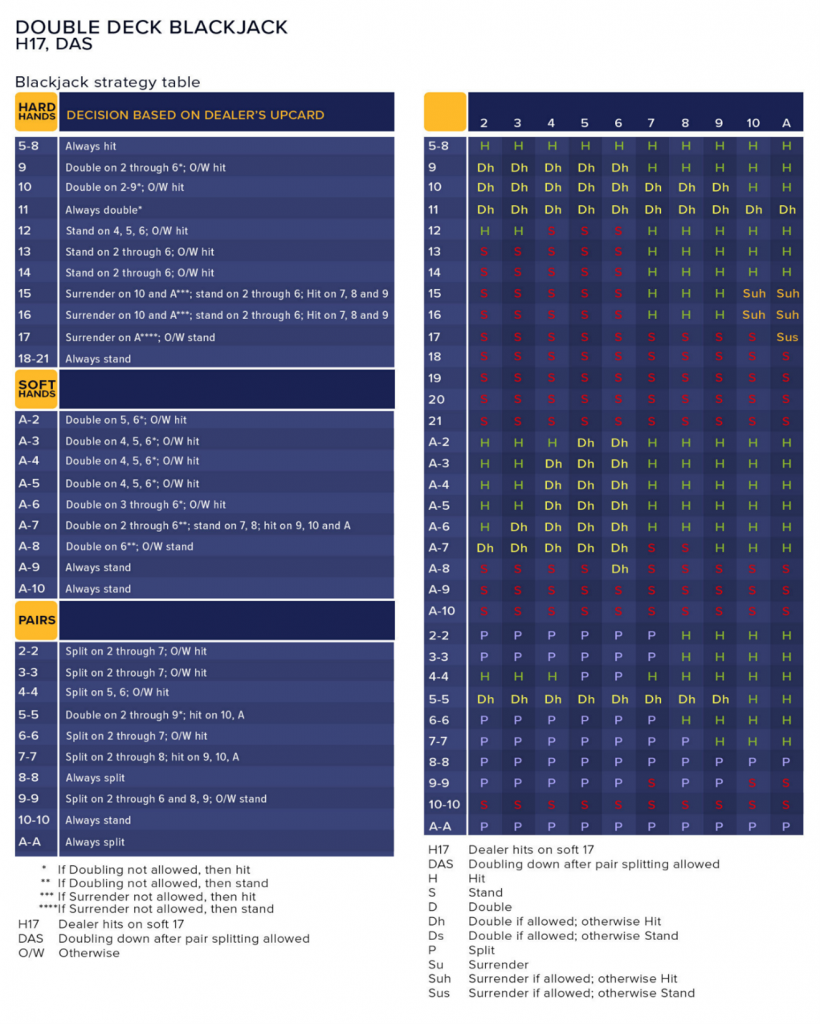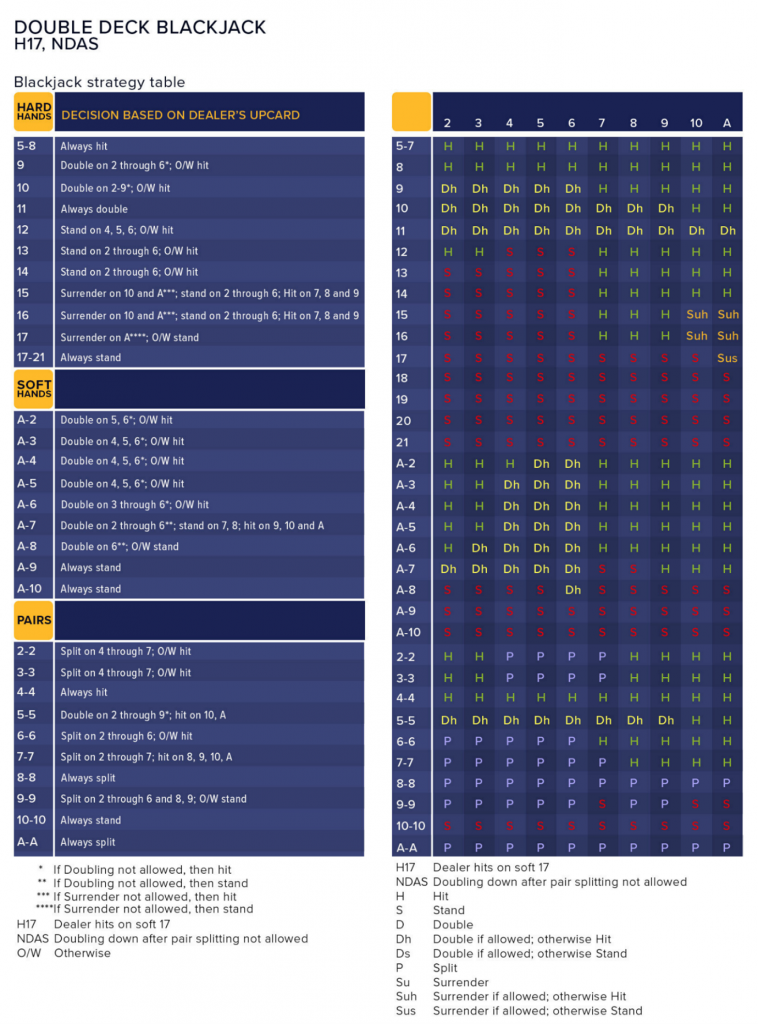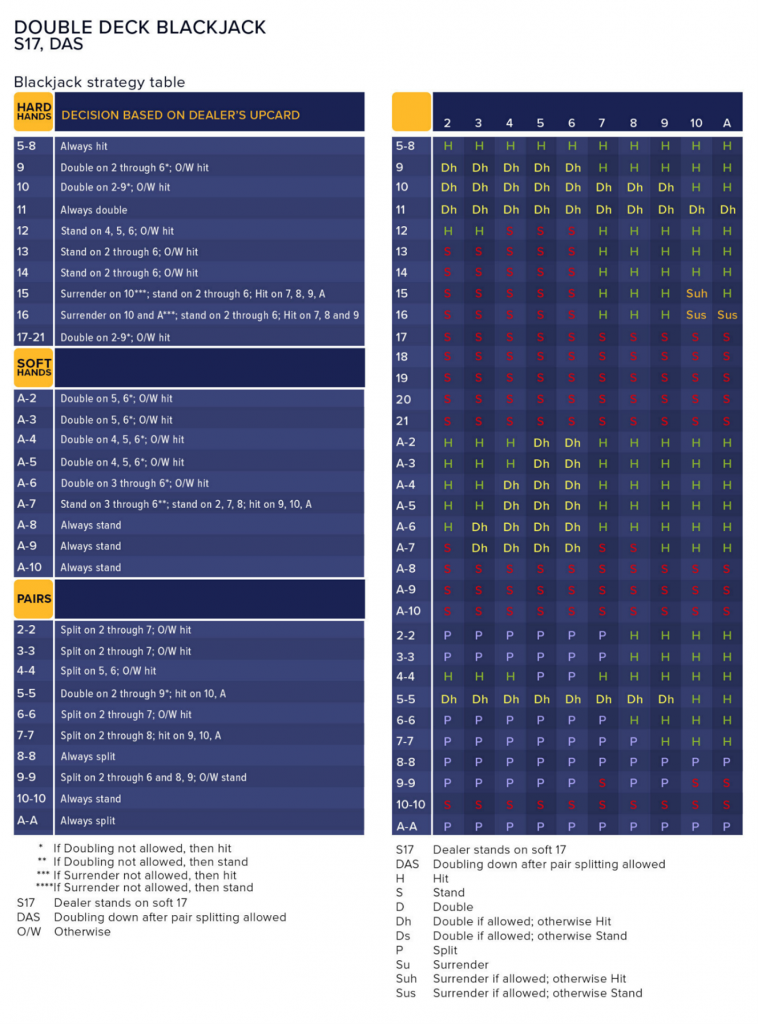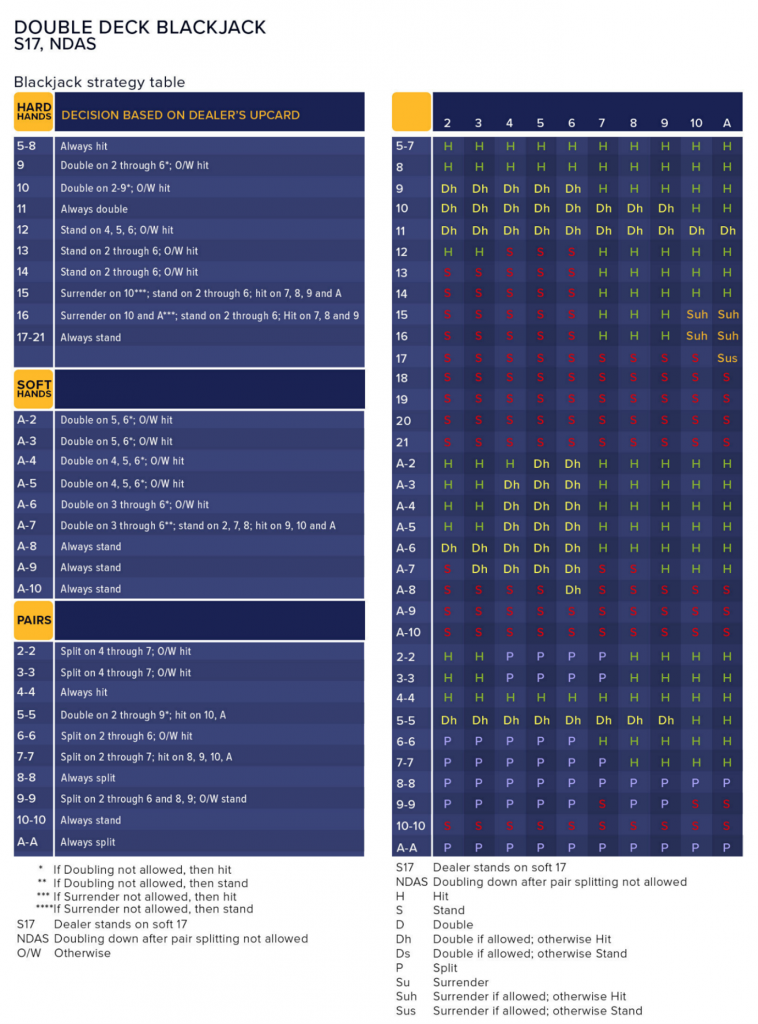 4 to 8 Deck Blackjack Basic Strategy Charts
Learn how to 'Master the 8 Deck Blackjack Strategy' and 'Play Perfect 6 Deck Blackjack Strategy' at mBitcasino Blog. The majority of blackjack tables online and in land-based casinos will have 6 or 8 decks. But unlike the single deck and double deck, 4 to 8 deck blackjack tables use the same basic strategy charts.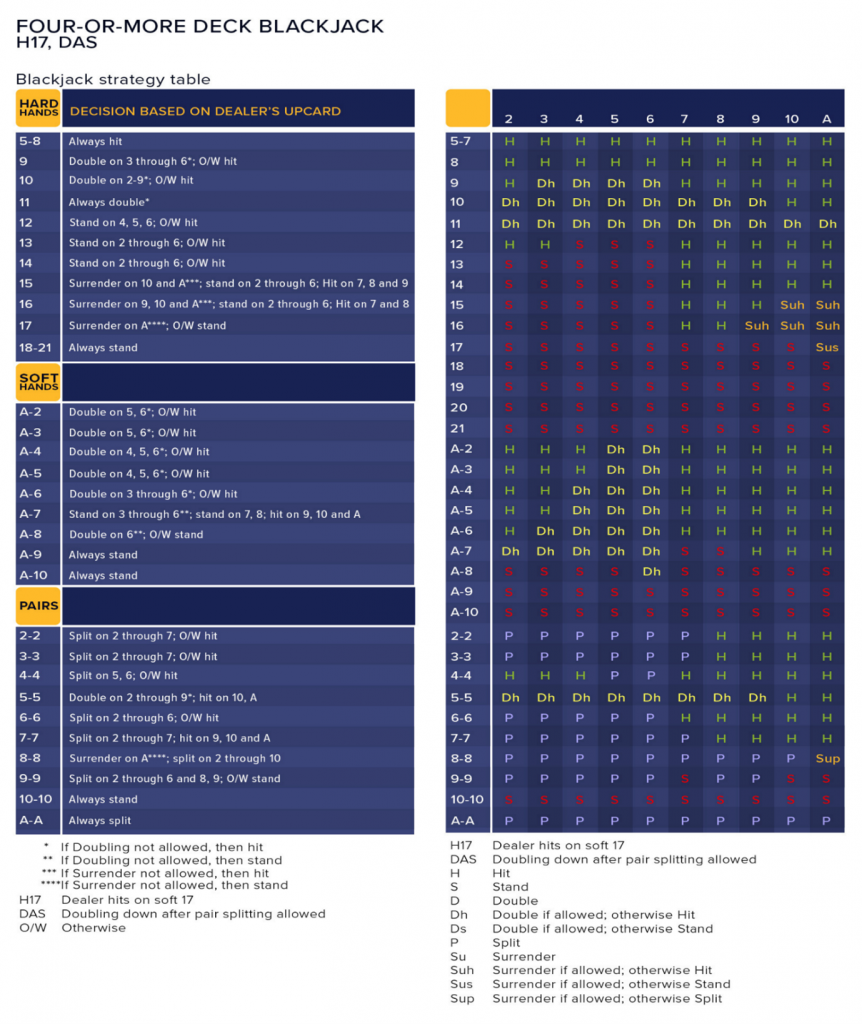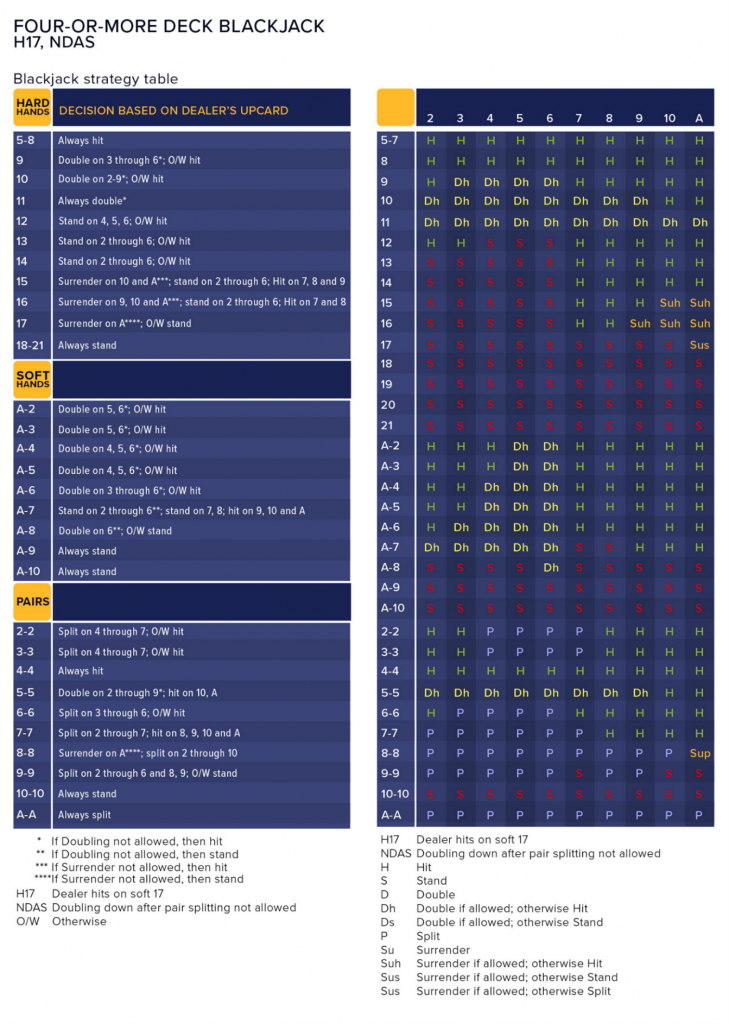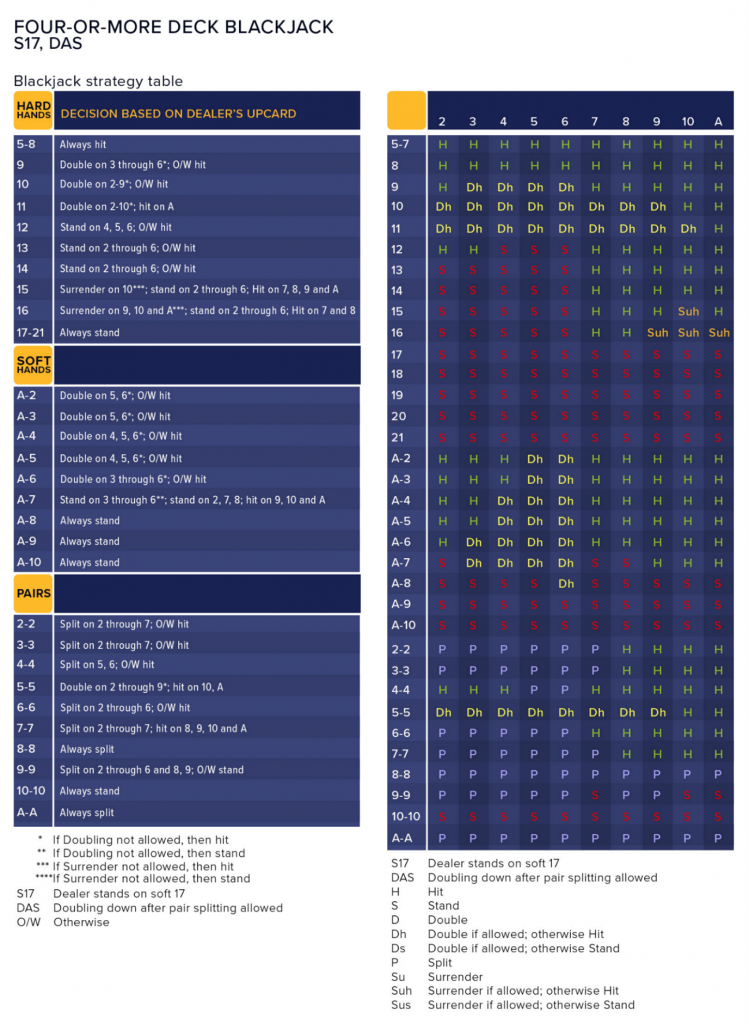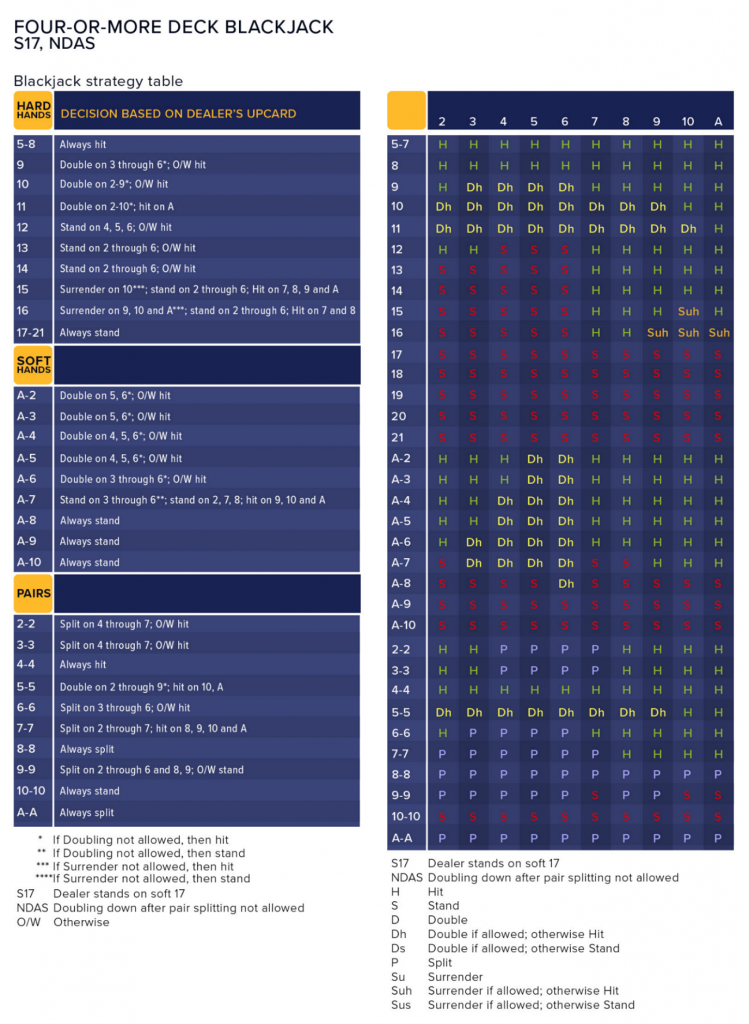 Play multi-hand blackjack at mBitcasino!
You can play a demo version of multi-hand blackjack here via your mobile or desktop device. This table is a 6-Deck (S17) NDAS table. You can double down on 9, 10, or 11 and split pairs and aces, but no double downs are allowed after the split.
Also, we recommend Evolution's 'Free Bet Blackjack'. It is one of the most popular tables out there because when you can double down on any total, while if you double down on 9, 10, or 11 totals, the table gives you a free bet and pays the full double down amount if you win. Plus, splits are allowed on any pair except 10-10 totals, which is great because if you check the basic strategy charts above, there is never a good time to spit a pair of 10s. The only difference the Free Bet Blackjack title has from most other blackjack titles is that if the dealer busts on 22, the hand is pushed meaning your original bet(s) are returned.
In all cases when you play blackjack, make sure to check the rules of the game, and then choose the correct basic strategy chart and enjoy beating the dealer with your improved odds of winning!